Digital Social Innovation and the future of Care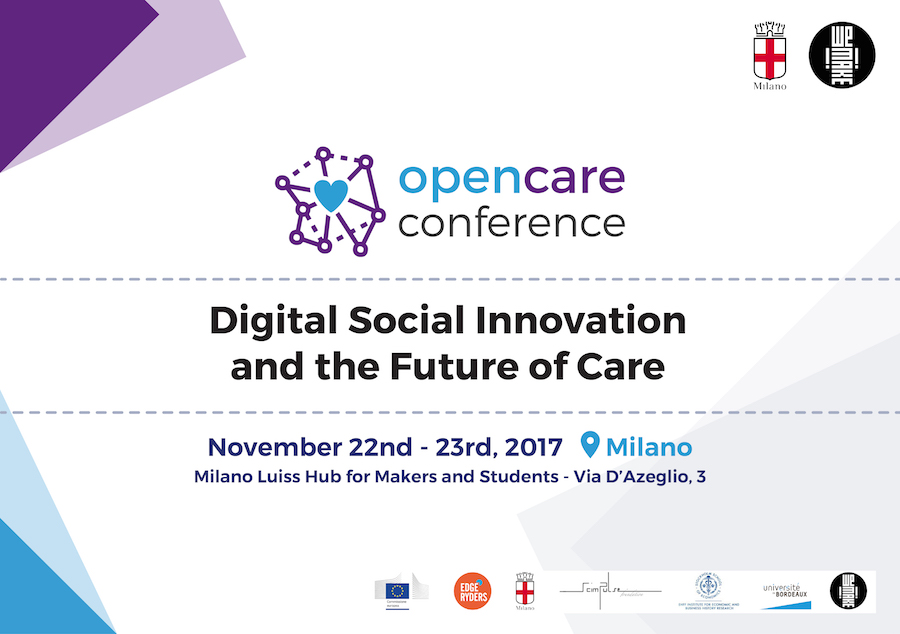 ---
22nd November Digital Social Innovation and the Cities
23rd November New Urban Economies and Care
22nd and 23rd November Exhibitions
---
Program
22nd November | Digital Social Innovation and the Cities
(the conference will be held in English)
14:00 – 14:30 | Registratione e Welcome coffee
14:30 – 14:45 | Benvenuto e Agenda
Cristina Tajani Comune di Milano
Roberto Costantini Milano Luiss Hub for Makers and Students
14:45 – 15:00 | opencare, a CAPSSI project: panoramica del progetto
Renato Galliano City of Milan
15:00 - 15:15 | Internet di prossima generazione, Innovazione sociale digitale e coinvolgimento dei cittadini
Next Generation Internet (NGI) - In che misura è possibile creare consapevolezza sui problemi di sostenibilità e mettere in atto soluzioni collettive? L'internet del futuro dovrebbe fornire servizi migliori, più intelligenza, maggiore coinvolgimento e partecipazione. C'è bisogno di un dibattito a livello europeo che ponga libertà, apertura e interoperabilità quali valori sociali ed etici. E' questa la direzione verso cui stiamo andando?
Loretta Anania Programme Officer, DG Communication Networks Content and Technologies, Next Generation Internet Unit, European Commission
15:15 - 16:30 | From Collective Intelligence to Social Innovation
Le tecnologie digitali sono in grado di trasformare le società mobilizzando azioni collettive, consentendo un'economia più collaborativa, garantire una maggiore partecipazione dei cittadini e liberando energie per una vera innovazione sociale. In che modo le iniziative dal basso nate nello spazio digitale diventano sostenibili?
Keynote speaker:

Francesca Bria Chief Technology and Innovation Officer, City of Barcelona

contributi introdotte e moderate da Fabio Sgaragli, Fondazione Giacomo Brodolini:

Alberto Cottica Edgeryders
Paulien Melis Creative Care Lab of Waag Society
Olivier De Fresnoye Echopen project
Winnie Poncelet / Anthony Di Franco Open Insuline project
16:30 - 16:45 | Coffee break
16:45 - 17:45 | La città come piattaforma di innovazione aperta
Le città sono "sistemi per l'innovazione"? Come possono le Amministrazioni Comunali promuovere l'innovazione collegando tutte le parti interessate, comprese le più piccole e le più innovative, per garantire tutti possano contribuire e che tutte le risorse vengano mobilitate? Come si genera un ecosistema? Una riflessione a partire dalle strategie e dalle pratiche di Milano.
Keynote speaker:

Marco Zappalorto, Nesta Italia

contributi introdotte e moderate da Claudio Calvaresi, Avanzi:

Renato Galliano City of Milan / Milan and its "crowdsourced policy making"
Carolina Pacchi Polytechnic of Milan / Civic crowdfunding and citizen-led micro-regeneration in Milan and in European cities
Cosimo Palazzo City of Milan / WeMi as a digital/physical platform to reconnect care solutions with societal need
17:45 – 18:00 | Final remarks
18:00 – 19:00 | Call for solutions Open Innovation for Community Care exhibition
Selected projects exhibition + happy hour
---
23rd November | New Urban Economies and Care
the conference will be held in italian and english with simultaneous interpreting
9:00 - 9.30 | Welcome coffee
9:30 - 10:30 | New Urban Economies and Digital Manufacturing: City of Milan's vision
Keynote speaker:

Annibale D'Elia City of Milan

Contribution :

Stefano Micelli Università Ca' Foscari di Venezia
Cecilia Manzo Università di Firenze
Marco Taisch Politecnico di Milano

Wrap-up:

Cristina Tajani City of Milan
10:30 - 10:45 | Make to Care: an emerging innovation ecosystem
Stefano Maffei Politecnico di Milano
10:45 - 11:15 | From care services to care as an open system: opencare's perspective
Rossana Torri City of Milan
Costantino Bongiorno WeMake
11:15 - 11:30 | Coffee break
11:30 - 13:00 | Economies of care and innovation
contributi introdotti e moderati da Francesco Samorè Fondazione G. Bassetti:

Erik Lakomaa Stockholm School of Economics
Mario Calderini DIG - Politecnico di Milano
Lucia Scopelliti Comune di Milano - Direzione Economia Urbana e Lavoro
Gaela Bernini Fondazione Bracco
Angela Simone Fondazione Giannino Bassetti - SMART-map
L'economia della collaborazione e le nuove tecnologie stanno oggi contribuendo a innovare radicalmente le soluzioni di cura per i cittadini, personalizzandole e rimettendo al centro bisogni che non trovano risposte nell'ambito dei sistemi tradizionali di protezione, ma a quali condizioni? Quali sono gli impatti economici dell'innovazione nel mondo della cura? I modelli di intervento basati sulla co-progettazione e la customizzazione sono sostenibili? E come l'attore pubblico può ripensare il proprio ruolo all'interno di sistemi di cura "aperti"?
13:00 - 13:15 | Introduzione alle mostre
Fabrizio Marta Rotellando, Liat Rogel Naba
Davide Crippa curatore della mostra "Secondo Nome: Huntington"
13:15- 14:30 | Light Lunch
14:30 - 16:15 | Rethinking care systems
Rethinking care systems for people and with people, with the help of digital fabrication, co-design and innovation in production processes.
contribution introduced and moderated by Alessia Maccaferri IlSole24Ore - Nova:

Costantino Bongiorno WeMake & Lisa Noja City of Milan Open Rampette
Gehan McCloud GalGael Trust - GalGael
Carlos Arturo Torres - IKO - Lego prosthetic for children
Antonia Madella / Cristina Dornini, Together To Go, Project UNICO
Antonella Bertolotti Fondazione Cariplo - Codesign for Rehabilitation and Wellbeing - CReW
16:15 - 16:30 | Final remarks
Marianna D'Ovidio Università degli Studi di Bari
16:30 - 17:30 | Call for Solutions Pitch and Awards
3 Minutes-Pitch and Projects Awards
---
22nd and 23rd November | Exhibitions